WHERE YOU CAN FIND YOUR FYNE HATS - 2018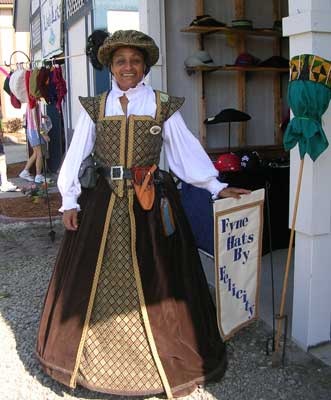 **NOTICE** I will be away from June 10 - August 8 and unable to fill any orders.

If you wish to place an order at my Etsy shop - do so BEFORE June 10 or it will not be completed in time for your event. (See Catalog page for link).

May 5 - 6 RenFest of Nebraska Bellevue Berry Farm, NE

http://www.RenFestNebraska.com

May 26- 27-28 Iowa Renaissance Festival Amana Colonies, IA

June (Not for 2018) Siouxland Renaissance Festival Sioux Falls, SD

http://www.siouxlandrenfest.com

Sept. 1-3, 8-9, The Renaissance Faire at Sleepy Hollow Des Moines, IA

15-16 http://www.sleepyhollowrenfaire.com

Sept. 29- 30, Kansas City Renaissance Festival Bonner Springs,KS

Oct.6-7, 13-14 www.kcrenfest.com