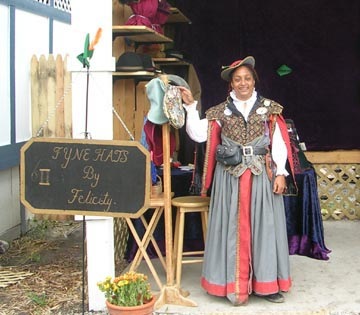 FYNE HATS BY FELICITY ONLINE IS NOW BETTER THAN EVER!

See the new shop at: https://www.etsy.com/shop/FyneHatsByFelicity . It will have the familiar Renaissance headgear as well as contemporary fashion hats, bridal, fascinators, and other period hats as well.

We will be continually adding new images of our wonderful hats to show the variety that is available for past ages or contemporary fashions.

FYNE HATS HAS A STEAMPUNK LOOK!

Steampunk mini Top Hats. (NEW ITEM) in several sizes (3/4, 1/2 and cupcake) have been very popular with folk wanting to dress up their Steampunk outfits. They are being added to the Etsy store but custom request are always welcome.

COSTUME COLLEGE - LOS ANGELES, CA

Donna will be teaching a hat class (Making a Mini- Steampunk Top Hat) for the Costumers' Guild West's annual Costume College in Woodland Hills (Los Angeles) July 27-31, 2017. The courses range from Historical to Fantasy, and beginners to advanced sewers can all find intriguing and interesting classes to join. The theme this year is the "60's!! Check it out at: http://www.costumecollege.net/